William Davison was born in Alnwick on 16 November 1781, the younger son of William and Mary. William Davison the elder was a Dissenter, and Mary was his second wife; he was described in parish records as husbandman, gardener and farmer.
Young William was schooled in Alnwick, and apprenticed at the age of fourteen to a chemist in Newcastle. He returned in 1802 to set up business as a pharmacist, and in 1803 was for a short time in partnership with another printer (Joseph Perry).
Although William Davison is remembered for his printing, he was a very active and successful pharmacist and apothecary. Indeed William's own son (also William!) trained under him to become a doctor.
Davison came into printing at an opportune time -- he had been preceded in Alnwick by only five other printers. He produced an amazing variety of goods: chapbooks, children's books, school books, billheads, commercial printing, a newspaper, prints, a guidebook, etc.
Early in his career he adopted stereotyping, not in general use at that time, and employed Thomas Bewick to illustrate his publications. About 1814 he established a small foundry on his premises at Bondgate Street for the production of these metal stereotypes. He also issued a quite frankly astounding trade catalogue which contains a total of over a thousand impressions of wood-engravings, metal ornaments, ornamental borders, etc.
Davison produced short histories of Alnwick, and guides to the town and castle. He had a steady demand for school-books certainly, but seems to have had his fingers burned with an ambitious Bible print. He also had an extensive history of the region in planning ; unfortunately other authors beat him to it, and that project was stillborn.
Davison was 72 years old by the time that the "Alnwick Mercury" newspaper was published (a full year before stamp duty on newspapers was repealed). The first issue, of which 1000 were printed, cost one old penny. The numbers printed, and the number of subscribers rose steadily, and by the time of Davison's death the monthly printing of the 8-page monthly was over 2600.
Alnwick was often referred to as a "graveyard of newspapers" : in the 25 years between 1827-52 at least four periodicals appeared and then died just as suddenly (mainly because Alnwick was, and is sparsely populated). Davison adopted the principle of "split-printing", where much of the printing was actually done in London, and then a "local" element added in Alnwick.
The "Mercury" is fascinating to look at now, not only for its local news coverage, but for the local trade adverts. Fine Matured Glenlivet Whisky cost 15 shillings per gallon !
At Davison's death (in 1858) his businesses passed to his son, who kept the paper going for a year before selling it off. It was amalgamated with the Alnwick County Gazette in 1844, and is now published weekly as the "Northumberland Gazette" !
At the end of 1864 it had been transformed into a 4-page weekly: local adverts on the front page, general news on the inside, plus local news and editorial and adverts, etc on the back.
On 10th November 1883 the "Alnwick and Country Gazette" was an 8-page penny weekly, with almost complete emphasis on local news. By March 1884 circulation had reached 6000 copies. By this time it had become openly right-wing (something that continues to this day), and in 1885 the ill-fated "Alnwick Guardian" was launched to put the Liberal side to the public.
In spite of the fact that William Davison's father had been a Dissenter, Davison himself was a churchwarden, being amongst those responsible for the erection of a workhouse by 1810. Towards the end of 1815 the Alnwick Dispensary was founded ; Davison acted as apothecary, and later was a regular subscriber to the Dispensary. In November 1836 he was standing for election as a Guardian. He also subscribed to the Alnwick Scientific and Mechanical Institution (founded 1824).
Finally, in 1827, he attacked another periodical thus:
"It has ever been the mania and plague of small towns, that their inhabitants are voraciously fond of news; and tales of the marvellous, or of petty scandal, are swallowed with peculiar avidity. In such places, human nature appears in a very unamiable point of view. The inhabitants, for want of employment, seem like spies upon each other, and every one knows his neighbour's affairs better than his own ...."
That was written 175 years ago, and shows just how well Davison knew his town !
William Davison's Trade Card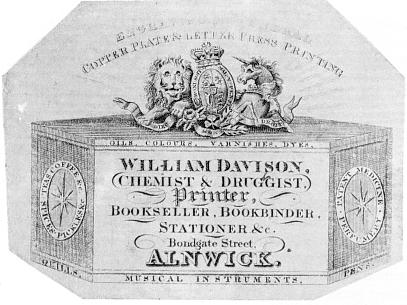 Alnwick Castle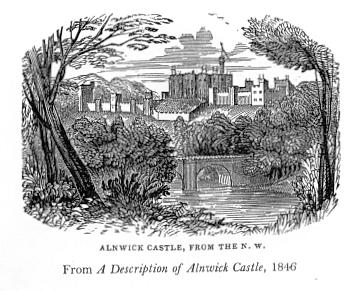 "Burial of the Dead"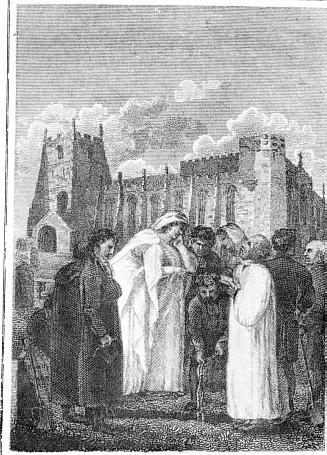 (From the "Book of Common Prayer", 1817)
The arms of Hugh Percy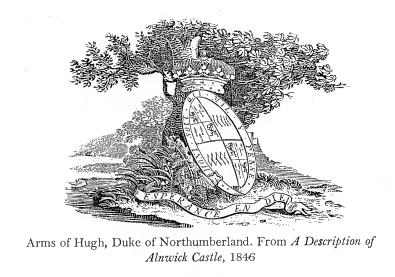 An uncommon "coat of arms" for the Percy family
The original "William the Lion" stone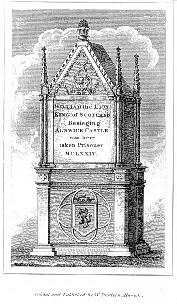 Removed in the 1800's .... WHY ??
This impressive memorial no longer stands at the spot where William the Lion of Scotland was taken prisoner (in 1174). It was taken down in the mid 1800's, and replaced by the block of stone there today.
It is difficult to understand why this was done, although one can only wonder if it too is stored within the walls of Alnwick Castle ...
The Camphill Column
This "Collingwood Memorial" is in the golf course !
"This Pillar was erected by Henry Collingwood Selby" -- this is the beginning of an inscription upon one of the four square tablets at the bottom of the column.
This truly elegant column was erected in 1814 to commemorate the victory of Britain in the Napoleonic War. It stands upon an old encampment within the grounds of Alnwick Golf Course, but access is allowed (so long as the visitor takes care).
Apart from the Castle, this may be Alnwick's greatest structural treasure, being executed after Vetruvius's plan. Each of the four tablets celebrates the part played by: the British Empire, Vice-Admiral Nelson, the Duke of Wellington, and the Rt Hon William Pitt.
An interesting edifice, and worthy of a visit.